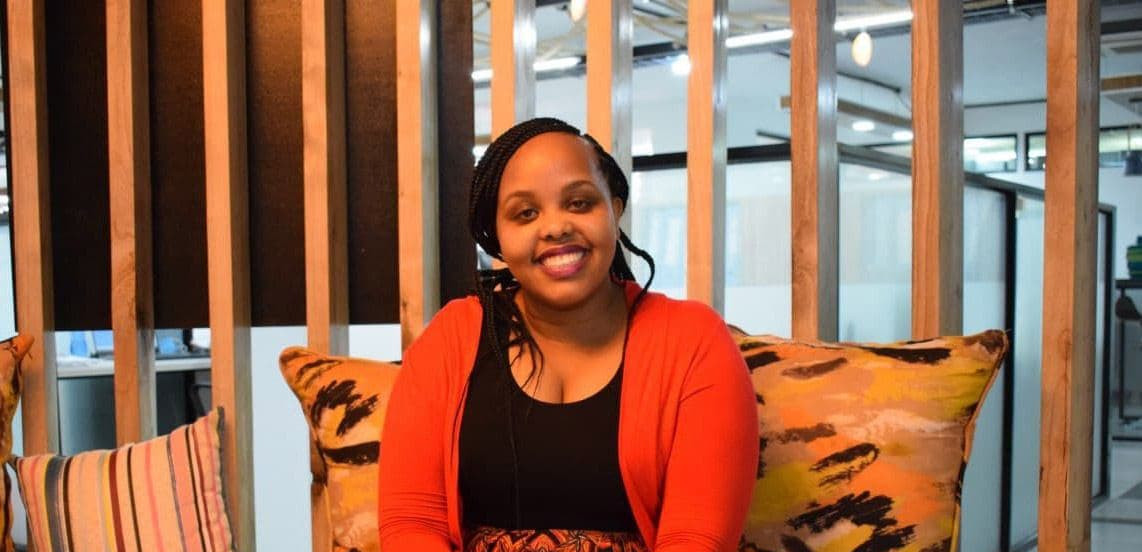 Describe yourself in 5 words or less.
Loyal, Passionate, and I have a big heart for sure.
Tell our readers about who you are and what you do.
My name is Nelly Tuluba aka Nexcellent. I am in Marketing and Communications and I'm responsible for the development and implementation of marketing and communications strategy and marketing calendar, internal and external branding, digital marketing, management of the website, development and editing of communication vehicles such as newsletters and annual reports, marketing events, product development, and launches, among other responsibilities.
Tell us about your background. Where did you grow up? How was the culture there and how did it impact your education and career? Were you necessarily encouraged to pursue the same – did family support?
I grew up in Meru in a village, somewhere in Tigania West. My dad who is now retired was in the army while my mum is a businesswoman. Despite dad being in the Defence Forces, for 33 years, he always ensured that he was home, each and every weekend. Growing up as the only girl in a family of 4 boys was very interesting. One time, I followed my dad and brothers, also carrying a stick to go sell a cow at the local livestock market. As a kid, I wanted to be part of each and every experience my brothers went through, no matter how masculine. This upbringing in an environment full of love shaped my attitude towards people, the world, and life in general. I am very patient but resilient at the same time. I always have the 'I can do' mentality because that is what was instilled in me by my parents. Needless to say, my siblings and I were accorded equal opportunities and supported to the best of my parents' ability. By the way, I lost the Meru accent when I went to Boarding School.
You went to Strathmore University. What was it like and what did you study?
I always wanted to study in a public university so after high school, as I waited for the conclusion of the Public Intake Process, I joined the School of Accountancy at Strathmore University and began CPA Studies. After 6 months, the first-ever double intake happened which meant 1 intake for 2 different years which resulted in students who were qualified for great courses pushed to alternative degrees. With a B+, I was called for a Bachelor of Arts (General). Disappointed, since I wanted to pursue a Business course, I continued my CPA studies in Strathmore until Section 6 then joined B-COM. I was exempted the first 2 years of B-COM, so I did 2 trimesters in a span of 1 and ½ years. Studying in Strathmore was quite an experience. The strict but friendly culture instilled in me great values. You literally had to earn your degree, as there were no shortcuts. My highlight was my undergraduate research project on the uptake of Islamic Banking in Kenya which exposed me to effective research, Islamic culture, and Islamic Banking during my fieldwork.
Tell our readers about your first job after university. Where did you start your career and how did that experience prepare you for your current role?
My first job after University was with a debt recovery firm which I did for 2 months then left and began doing research projects for people at a fee. It was easy money for me since I am good at writing, though the deadlines were so strict which meant late nights and few hours of sleep. I was very passionate and got the jobs on referral which were very diverse, including financial reporting, financial management, Business Plans, Marketing, History, World economies, among other topics. I did that for 4 months before joining GA Insurance. I learnt how to be analytical, manage projects, organized, disciplined and was exposed to so much knowledge.
How did you end up at GA Insurance and how long have you been here?
Interestingly, I was busy applying for management trainee opportunities and jobs when I was called for a job interview, I hadn't applied for at GA for Internal Audit in Dec 2016. During the interview, when I was asked how I ended up there, my best guess was the Campus Career office had forwarded my CV to GA and I was right. I was fresh out of campus; no experience and I wasn't even sure if I was ready for auditing, but I was excited to join the insurance industry and Audit and learn all I could. I am no longer in Auditing, but it's been 4 years now.
You started your career in Internal Auditing. Tell us more about that.
I began my career as an Internal Auditor which basically entailed auditing the different processes and various functions of the company. It was quite a learning process. I think I audited almost every department in General and GA Life which entailed going through numerous procedure manuals, learning about the processes on the ground, developing of the appropriate audit tests aimed at addressing the identified risks, documenting the findings, collaborating with the management as they give their comments and discuss the audit recommendations, among other responsibilities. I think auditing Bonds and Life was a bit tough hahaha anyway, other than understanding Insurance at a deeper level, I learnt how to be analytical, project management, and people skills.
How did your career in Marketing begin?
As I did my internal audit duties, I was also getting more involved in church responsibilities, and just when I got my job at GA, I was assigned to pioneer the Virtual Church which is the online church that was meant to mirror the 'Physical church.' At the time, I was already active on social media and had a steady following but pioneering and heading the Virtual Church was something I had no idea about. I remember when I submitted my vision to the admin, the Pastor in charge was amazed. Everything I knew at the time was self-taught, but I purposed to run that function in the most excellent and effective way. And I did. That is also how I gradually knew I wanted to do Marketing.
Tell us more about your role in running the Virtual Church
I began the Virtual Church with just 2 leaders and a vision. We redesigned the church website, started church social media platforms, ran successful social media campaigns to which numerous people responded to. I saw that the more I did the tasks, the better I became at it. My 'boss' at the church who was my Senior Pastor literally gave me the opportunity to be the best of myself and I did. We packed meetings in KICC, Kasarani & Nyayo Gymnasiums, numerous open grounds, among other places. By the time I was leaving Virtual Church, I had grown the 2 leaders I began with to 30 committed leaders who were very diverse including campus students, young professionals and corporate executives and from different countries. The Virtual Church also had numerous international connect teams whose operations mirrored our physical church and they totalled to around 600-700 consistent members…John Wesley said, Light yourself on fire with passion and people will come from miles to watch you burn. I burned and everyone around me including the online community not only came to watch but they caught the fire. That is where my being called Nexcellent began because my work exuded excellence and I could be counted upon to deliver.
What happened after you decided marketing was the right path for you?
As I was contemplating my next move, I got a call from one of the people in GA Marketing and Communications and I was asked if I was interested in joining the team as a digital marketer. Ironically, I had audited the Marketing Department 2 months before, so the various interactions had portrayed my interest in Marketing. The interview for the digital marketing job entailed sitting down with the GM, Marketing and Corporate Affairs, and now, current boss and answering a few questions. It is amazing that he took a chance with me even if I had no experience or training in Marketing. The move was totally based on Passion. And all he said was, "I will hold your hand, guide & teach you, and make you the best."
Wow! How was the transition? How did you adjust to the new department and have there been any challenges with your role?
Like I said, my boss promised to teach me and guide me in my work. And he did. He taught me simple things such as making an excellent presentation, how to think hahaha literally, how to be strategic in my thinking, among other things. It was no longer about ticking boxes. It was about being intentional in my work, paying attention to detail and producing excellent results. I was running the digital aspect of Marketing at the time which included social media, updating the website among other digital marketing duties, before heading the marketing and communications unit. Honestly, before completely adjusting, I was beginning to second guess my decision, but I am settled now, and I have no regrets. I am proud of myself for having the courage to leave and pursue my passion.
What is your Leadership Style, and has it evolved over the years?
At first, like many creatives, I found delegating very difficult and that left me exhausted, especially with running the Virtual Church. However, with the influence of my boss at work and in the church who are very much alike, I think I am on my way to being a Laissez-faire leader. They both let me be creative and manage challenges when I encounter them. They also praise me or offer constructive criticism, depending on the situation and they also maximize my leadership qualities. I think I am also very collaborative.
How do you approach setting and executing goals? Walk us through that process
Initially, I would just write down the end goal then somehow work towards it, but I found that was barely working. So, I began a new routine this year where I write down an end goal then also list the daily tasks which will contribute towards the fulfillment of that goal. This way, I am able to track my progress, be intentional about my efforts and make adjustments where necessary. One of my professional goals this year is to develop an effective team so everyday, I am working towards that through the small daily tasks.
Tell us more about your routines and do you think productivity can be pegged to routines?
I have always thought that I am not a 'routine person' but I realized I could improve my productivity with a more organized routine. For example, I began a morning routine this year where I wake up at 5 a.m. then read the Bible, pray, work out and do a few specific things before my day at the office begins. This helps me to start the day on a high note and not play catch-up during the day. Obviously, I am now more productive and effective. I also plan my day every evening before I go to bed. This has really worked for me.
Can you share one personal and one professional goal for the year?
I have never been serious about Fitness but now, it is one of my personal goals; to eat healthy and exercise continually and lose a specific amount of weight. I recently lost 12Kgs. Needless to say, I posted it on social media. I felt so good hahaha the swollen feet and sacrifices were worth it. One of my professional goals is to make the GA brand more vocal while maintaining its authenticity.
You talked about posting on social media, any thoughts on cancel culture?
Many people portray their lives in a way that does not depict their real lives on Social Media hence the backlash, when they make missteps or when a snippet of their lives on the ground comes to light. I think if you are truly authentic, you will always stand, no matter what.
What are some of the highlights in your career so far?
Redesigning the current site into a group website for the 4 subsidiaries. Working with the vendor and various teams from all the subsidiaries was hectic but much fun. Sometimes, it meant working up to midnight, on Saturdays and Sundays, numerous meetings but I loved every minute of it. For me, it was not just a task, I learnt quite a lot. We are launching soon. CS Week 2020 was definitely a highlight too.
What are your biggest sources of motivation?
My purpose in life is what keeps me going. I know we cannot all leave our careers to pursue our passion, but I believe everybody has a purpose and it is your responsibility to find it and live it out.
Did you have any mentors that helped guide you along the way?
In my career, my boss, Sundeep Vaghela has been my mentor. I am amazed at how he is able to run an effective team, giving everyone attention and mentoring them personally and delivering excellent results, while at it. He is also a great coach. My Pastor is also my mentor in life. The Word of God he has taught me has become very practical for me and produced glorious results in my life. He also runs a very big team but still manages to be loving, kind and patient to everyone while also, still being effective.
What is one book that has greatly inspired your work and goals?
The Bible, not because I have read all of it yet but because the small that I have read has worked for me and produced in me an unbeatable mindset. The Girl Boss Radio Podcast interviews which feature boundary-pushing women in business and corporate have also greatly influenced my goals.
Are you an avid reader and do you prefer physical books or Audiobooks? What are your 3 most recent reads?
Honestly, I can't remember the last time I read a physical book. My friends think listening to audiobooks is not the same as reading a physical book but sometimes, my schedule is crazy, so it is all about optimizing. I have an app called SCRIBD where I pay only Sh 800 per month to listen to as many books as I want. I recently listened to Girl Stop Apologizing by Racheal Hollis, How To Stop Procrastinating by Steve Scott, and Incomparable which is an autobiography by top female wrestlers, Nikki and Brie Bella.
What motto or words of affirmation get you through even on your worst days?
Romans 8:28. All things work together for my good. It might not make sense in the moment, but it will all definitely work for my good.
What are some things that you wish that you would have known as a young woman? (Dear Younger Me) … What do you wish someone told you in your early 20s?
I am now in my late 20s but something I still would have loved to be told is to take it easy and not to be so hard on myself. Working hard is critical but without a healthy body and mind, it is impossible to make progress.
How often do you say no and what has been your journey to saying it unapologetically?
I think I always thought being a superwoman meant taking on so many responsibilities at once until I got a serious burnout. I could not even sleep. Now, I am very intentional with what I do and how I use my time which means saying no a lot.
Have you experienced rejection in your pitches etc? How do you handle it and what's your advice for young, upcoming women who want to be like you
Absolutely. For example, I do a lot of charity work which means many regret emails and all that, but it all works out for my good in the end. Most regret emails are detailed and even advise on what you can improve on, so I take the positive and move on. I think if you are really doing a lot on a daily basis, rejection is inevitable, but it should never be the reason why you stalled or gave up on something. Have what I maybe could call a shredding machine in your mind. If it is not edifying, shred it and move on.
With growth, comes learning. How do you handle corrections from the people you work with or report to?
The Bible says, "…turn at my reproof…," so corrections must be followed by adjustments. For example, I work closely with my boss, so he corrects me a lot. When I am reviewing my day or the week, I normally list the areas he has corrected me on, then write down how I will improve on the same.
What is one quality that causes you to stand out in your work?
I can easily and effectively multitask. I am also very zealous and passionate if I believe in something. I only stop when I'm done, not tired.
At GA Insurance we focus and celebrate ambitious women. In your opinion, what makes an ambitious woman?
An ambitious woman is one who walks in her purpose and remains focused on her assignment, no matter what.
As a woman with many things going on, how do you measure your success?
Success is all about impact. For me, success is impacting the world with the investment God has deposited in your personality.
During this journey of growing into the phenomenal woman you are today, what is one challenging aspect that you are still learning on?
Advocating for myself has been quite challenging for a long time and something I am still learning on. I think many women would rather be silent and appreciate what they currently have than speak up and demand more – more respect, more time, more reward for their efforts – whereas a man will speak up, in spite of what is at stake. I think we should speak up more in all aspects of our lives, even where we think we don't deserve more because 90% of the time, we actually do. The other day, I advocated for myself somewhere after 4 years and regardless of the outcome, I was so proud of myself. Also, creating perfect pitches and effective communication was a challenge at first but I have grown in those areas too.
Are you a feminist and how do you define feminism?
Absolutely. I am a feminist and I believe in women being given equal opportunities, as their male counterparts. A feminist is a person who believes in the social, political, and economic equality of the sexes. My great-grandfather, from stories I've heard, was a feminist.
Why is feminism associated with so much negativity and do you think men should also be feminists?
I think the explanation to this is the same one offered for the 'angry black woman' narrative. Many women have gone through unimaginable discrimination, sexual harassment and have been marginalized for so long so much that when they come up and protest these acts, they often come off as angry and pushy. Feminism has nothing to do with women becoming like men. I don't think it is even possible for a woman to become like a man in entirety because we were all created to fulfill unique purposes in this world, but I believe it is possible to give both men and women equal opportunities so that they can be the best of themselves.
And Yes, men can be feminists. In fact, many already are. My dad is a feminist. He empowered me from such a young age so much that it is impossible to put me down successfully, just because I am a woman. All my life, all he has ever told me is, 'I can.' I think my boss is also a feminist. I honestly think sometimes, he doesn't even remember that I am a woman. He treats me and offers me the same opportunities as the 'guys.' My appraisal is based on my performance. What I am saying is that women should not be lazy and wait for opportunities to come to them just because they are women, but I think if the men, who occupy the majority of the positions of power in our systems decided to be all feminists, then inclusivity will be a real thing in the world.
What words do you live by? Any advice for other women pursuing their dreams?
As much you are a woman, don't live your life being 'woman-ish' and being 'woiye woiye.' Cheer up, put on a solid front and face life with confidence and let's push those boundaries. You can do it! The only relevant limitations are the ones you place on yourself.
How do you unwind?
As I said earlier, I listen to audiobooks regularly & podcasts for ambitious women in corporate and business. I also blog, work out, do charity work, run mentorship programs in schools & children's homes and spend time with my nieces and nephews. Oh! I also watch investigative documentaries/series and comedies.
What's next on the horizon for you?
I am very excited about the future. It is so bright. Watch this space.
Parting shot
Take time to know who you are because if you don't, you will settle for anything and anyone. Learn to also manage the thoughts you process and the words you speak concerning yourself. Lastly, guard your heart because out of it, flows the issues of life.
Disclaimer:
The opinions expressed in this publication are those of the author. The full information of the cover is contained in the policy document. The designations employed in this publication and the presentation of material therein do not imply the expression of any opinion whatsoever on the part of GA Insurance concerning the legal status of any country, area or territory or of its authorities, or concerning the delimitation of its frontiers.